Just wanted to explore some add-ons after I installed the final version of Firefox 3.0 today. I found this add-on named TwitterFox in Get Add-ons Tab after I clicked Tools –> Add-Ons option. Excitedly installed it since I am using Twitter accounts now. But after the TwitterFox installation, my firefox 3.0 acted very wired. I could not bring the Firefox screen focused. It always hid in the taskbar, and the left/right click of my mouse did not even work at all on FireFox in the taskbar.
I knew there was in-compatible going on here since I installed Google Gear add-on in FireFox too. Since I have not used TwitterFox at all yet, the first thing came to mind was to disable it to see whether FireFox would come back to normal.
But how I could disable TwitterFox add-on since I could not even open FireFox and then could not open the Add-ons dialogue window. I looked up all file directories of FireFox installation on my local machine, and could not have any clues to delete such add-on.
Well, fortunately I found out that I could use Firefox Safe Mode to resolve this annoying problem.
Here you go:
Do not use the FireFox shortcut on your desktop, go to Start menu, and All Programs — > Mozilla FireFox, and select the second one – Mozilla FireFox (Safe Mode).
And you will see this window below, and you check the first option – Disable all add-ons.
And click Continue in Safe Mode, your FireFox browser should be opened again. Now you can proceed to the normal procedure of "disable add-ons in FireFox" (the following steps copied from How to Uninstall an addon in Firefox)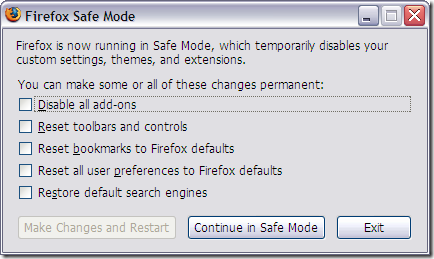 Question: How do I uninstall an add-on in Firefox?
Answer: You can uninstall an add-on in Firefox by doing the following:
1) Click on 'Tools' located in the top menu bar of Firefox.
2) In the drop-down menu, click 'Add-on'.
3) In the small pop-up window, click on the add-on on you want to uninstall and then click on the 'Uninstall' button.
Note: You will need to restart Firefox to complete the process. (if you just want to pause/stop the add-on for a while, please click on 'Disable' rather than 'Uninstall'.